Coping with Cancellations
Could a weather-related insurance solution be designed to help airlines cope with cancellation losses?
Airlines typically can offset revenue losses for cancellations due to bad weather either by saving on fuel and salary costs or rerouting passengers on other flights, but this year's revenue losses from the worst winter storm season in years might be too much for traditional measures.
At least one broker said the time may be right for airlines to consider crafting custom insurance programs to account for such devastating seasons.
For a good part of the country, including many parts of the Southeast, snow and ice storms have wreaked havoc on flight cancellations, with a mid-February storm being the worst of all. On Feb. 13, a snowstorm from Virginia to Maine caused airlines to scrub 7,561 U.S. flights, more than the 7,400 cancelled flights due to Hurricane Sandy, according to MasFlight, industry data tracker based in Bethesda, Md.
Roughly 100,000 flights have been canceled since Dec. 1, MasFlight said.
Just United, alone, the world's second-largest airline, reported that it had cancelled 22,500 flights in January and February, 2014, according to Bloomberg. The airline's completed regional flights was 87.1 percent, which was "an extraordinarily low level," and almost 9 percentage points below its mainline operations, it reported.
And another potentially heavy snowfall was forecast for last weekend, from California to New England.
The sheer amount of cancellations this winter are likely straining airlines' bottom lines, said Katie Connell, a spokeswoman for Airlines for America, a trade group for major U.S. airline companies.
"The airline industry's fixed costs are high, therefore the majority of operating costs will still be incurred by airlines, even for canceled flights," Connell wrote in an email. "If a flight is canceled due to weather, the only significant cost that the airline avoids is fuel; otherwise, it must still pay ownership costs for aircraft and ground equipment, maintenance costs and overhead and most crew costs. Extended storms and other sources of irregular operations are clear reminders of the industry's operational and financial vulnerability to factors outside its control."
Bob Mann, an independent airline analyst and consultant who is principal of R.W. Mann & Co. Inc. in Port Washington, N.Y., said that two-thirds of costs — fuel and labor — are short-term variable costs, but that fixed charges are "unfortunately incurred." Airlines just typically absorb those costs.
"I am not aware of any airline that has considered taking out business interruption insurance for weather-related disruptions; it is simply a part of the business," Mann said.
Chuck Cederroth, managing director at Aon Risk Solutions' aviation practice, said carriers would probably not want to insure airlines against cancellations because airlines have control over whether a flight will be canceled, particularly if they don't want to risk being fined up to $27,500 for each passenger by the Federal Aviation Administration when passengers are stuck on a tarmac for hours.
"How could an insurance product work when the insured is the one who controls the trigger?" Cederroth asked. "I think it would be a product that insurance companies would probably have a hard time providing."
But Brad Meinhardt, U.S. aviation practice leader, for Arthur J. Gallagher & Co., said now may be the best time for airlines — and insurance carriers — to think about crafting a specialized insurance program to cover fluke years like this one.
"I would be stunned if this subject hasn't made its way up into the C-suites of major and mid-sized airlines," Meinhardt said. "When these events happen, people tend to look over their shoulder and ask if there is a solution for such events."
Airlines often hedge losses from unknown variables such as varying fuel costs or interest rate fluctuations using derivatives, but those tools may not be enough for severe winters such as this year's, he said. While products like business interruption insurance may not be used for airlines, they could look at weather-related insurance products that have very specific triggers.
For example, airlines could designate a period of time for such a "tough winter policy," say from the period of November to March, in which they can manage cancellations due to 10 days of heavy snowfall, Meinhardt said. That amount could be designated their retention in such a policy, and anything in excess of the designated snowfall days could be a defined benefit that a carrier could pay if the policy is triggered. Possibly, the trigger would be inches of snowfall. "Custom solutions are the idea," he said.
"Airlines are not likely buying any of these types of products now, but I think there's probably some thinking along those lines right now as many might have to take losses as write-downs on their quarterly earnings and hope this doesn't happen again," he said. "There probably needs to be one airline making a trailblazing action on an insurance or derivative product — something that gets people talking about how to hedge against those losses in the future."
Katie Kuehner-Hebert is a freelance writer based in California. She has more than two decades of journalism experience and expertise in financial writing. She can be reached at
[email protected]
Winning the Benefits Battle
Health care reform led to late nights and intense demands on some Power Broker® winners.
Employees at the national headquarters of the American Legion Auxiliary liked their health insurance plan, but they weren't able to keep it.
Like five million other plans, their health plan was cancelled last year, leaving the Indianapolis-based veterans services organization scrambling to cover its employees.
"Anthem Blue Cross Blue Shield did away with all of their small group policies and made new ones," said Donna Parrott, HR director of the nonprofit organization.
Fortunately for the group, they had Kevin Wiskus, an executive vice president at the Hays Cos., to protect their interests.
Wiskus, a 2014 Power Broker® winner in the Employee Benefits category, was able to find a plan that — ever mindful of the nonprofit organization's fiscal constraints — reduced the organization's health plan costs by about 10 percent, Parrott said.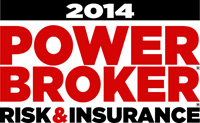 To see all 2014 Power Broker winners, click here.
Wiskus was an area vice president at Gallagher Benefit Services when he put together a benefits solution for the American Legion Auxiliary. And, said Parrott, "it was about 16 percent cheaper than what Anthem recommended."
"He goes above and beyond," she said. "We are a small group but he doesn't treat us as a small group. You would think we were his only client the way we get that personal touch."
Going above and beyond is emblematic of Power Broker® winners in 2014 — and not just those focused on employee benefits plans.
But while Superstorm Sandy focused attention last year on the Power Brokers specializing in property, this year, it's the Affordable Care Act that is taking center stage.
Employee benefits consultants and brokers have had to find ways to dig through 11,000 pages of regulations — regulations that have been changed at the last minute — and excavate the necessary information to protect their clients.
As individuals struggled to sign up via poorly functioning online sites and health care carriers fretted about an adverse risk pool, brokers and consultants stepped in to find solutions.
"It's creating a lot more work for us as consultants to make sure our clients are following all the laws, and making them aware of the taxes and additional costs to them," said Kim Clark, an account director at Gallagher Benefit Services.
"I am hopeful that 2014 is easier than 2013," she said. "I can't imagine it getting harder than it was this past year.
"The carriers had to make changes to every single one of their plans for Jan. 1. Even if employers didn't want to change their health plans, there were plan changes because of health care reform," said Clark, a 2014 Power Broker® in the Employee Benefits category.
Transitioning Plans
A survey of health insurance brokers by Morgan Stanley found that quarterly-reported year-over-year rates in December 2013 were rising in excess of 6 percent in the small group market, and 9 percent in the individual market, according to an article in Forbes by Dr. Scott Gottlieb, a resident fellow at the American Enterprise Institute, a Washington think tank.
It is the largest reported increase since the firm started its quarterly surveys of brokers in 2010, he wrote. "Much of the rate increases are attributable to Obamacare."
Thanks to Deb Mangels, senior vice president at ABD Insurance and Financial Services, the results were much more positive — and affordable — at the Piedmont Unified School District.
"It's been an amazing year for us. We have transitioned our health care plans and it's so much more than we have had," said Michael Brady, assistant superintendent of the district, which employs more than 360 teachers, administrators and support staff in six schools near Oakland, Calif.
Mangels, a 2014 Public Sector Power Broker®, transitioned the district's employee coverage from a health benefits pool with unsustainable cost increases to its own carrier at the same time the district was instituting its first medical benefits cap and increased premiums, following some "very intense labor negotiations," Brady said.
"They reworked all of the plans," negotiated a 15-month plan year so all plans would be on the same cycle, and added an online open enrollment tool. For the same benefits as the pool plan, the district's employees pay about $100 less each month in premiums, he said.
Plus, employees have the option of choosing among some plan options related to copay and deductibles that were not available in the pool.
"I have never felt that we were in a better place than we are right now," Brady said.
Communication is Key
When one HR director for an oil and gas drilling services company was holding employee meetings to discuss the introduction of a high-deductible plan, she faced resistance.
The materials she used to illustrate the changes were hampering her ability to clearly explain to employees and to foreign corporate parents the company's new health benefit plans and options.
That's when she called James Bernstein, a principal at Mercer and a 2014 Employee Benefits Power Broker® — at midnight that night. He's the consultant she counts on to keep his eye on both the big picture and the gritty details necessary to keep her organization in compliance and on top of everything.
By the time she woke up in the morning, Bernstein had prepared and sent her a new set of PowerPoint slides that offered more clarity on the health benefit plans.
"I really couldn't do this without him," said the HR director. "I've got 10 balls in the air, and he will make sure I don't drop one of them."
Effective communication tools and strategies are a crucial part of plan design changes, said Robert Ditty, a partner at Mercer, and a 2014 Employee Benefits Power Broker®.
"You can design a plan until you are blue in the face but if people don't understand it, you will not get the results you want," he said.
 Consumerism Takes Hold
Many plan design changes took place this year with his clients, Ditty said, because employers needed to make changes due to the ACA anyway. As a result, they opted to move ahead with some strategic alternatives that had been under consideration for a while.
One popular option among his mid-size and large company clients was the transition to a high-deductible health plan, coupled with health savings accounts and health reimbursement accounts.
The health care reform law "made people re-evaluate … and it really expedited that strategy for a substantial portion of clients."
Analyzing and strategizing around health benefits isn't going to end any time soon.
Ditty's clients are already trying to prepare for a substantial excise tax that kicks in in 2018. That tax — which requires employers to pay a 40 percent tax on health care costs that exceed federally defined thresholds — is better known as a penalty on so-called Cadillac plans. He said, however, that thresholds imposed for the federal tax will fall on "employers who are not offering very generous or rich plans."
Instead, as the regulations are now written, they will affect many employers who have older workers and higher health care costs. "A significant portion of my clients are projected to hit this threshold in 2018, and they don't have rich plans," Ditty said.
That tax will join the other taxes imposed this year on employers. All of these developments have made life interesting of late for employee benefits consultants — "interesting," as in the Chinese curse: "May you live in interesting times."
 Budgetary Concerns
It was those additional fees imposed this year that forced Gallagher's Clark to seek out different health plan designs for her clients.
The ACA-imposed taxes — either directly borne by employers or probably passed along as increased premiums because they are paid by health insurers — are the Patient-Centered Outcomes Research Institute Fee (PCORI); a Marketplace User Fee that "could be almost 3 percent of their premium," Clark said; a Transitional Reinsurance Program Assessment Fee; an Annual Health Insurance Industry Fee; and a Risk Adjustment Program and Fee.
Often, she said, employers had to change plan design "to help their budget to account for those additional costs."
Also adding costs were some other requirements in the ACA, such as requiring pediatric dental benefits on all plans, even if the policyholders did not have children or their children were older than 18.
One other wrinkle in the ACA, which is playing out in the courts, is the need for all plans to include contraception benefits. That offered a unique challenge for Jan Wigen, a principal at Mercer, who was working with a religious institution.
The faith-based organization, a Catholic college, refused to pay for the benefit. Wigen, a 2014 Employee Benefits Power Broker®, helped the college secure separate contraceptive coverage through an insurer without having to pay for it, itself. She then provided separate enrollment cards and communication tools so the college could comply with the law and employees could have the coverage, without administrators breaking the dictates of their faith.
That was a regulation that had a fairly limited employer impact, but there was plenty of fodder in the ACA for angst to be created among employers of all sizes and shapes — and their brokers as well.
"I can't think of an employer I talked to or worked with," Ditty said, "where the law is not driving them in many instances to be more proactive about how they manage their benefit programs. … They have really become progressive in what they are doing from a strategic standpoint."
For those employers lucky enough to have Power Brokers as their consultants, the process will run a bit smoother and the results will likely be a bit better, even as the demands on them increase and the regulations continue to change.
Anne Freedman is managing editor of Risk & Insurance. She can be reached at
[email protected]
Think You Don't Need Environmental Insurance?
The risk of environmental damage is there no matter what business you're in.
"I don't work with hazardous materials."
"My industry isn't regulated by the EPA."
"We have an environmental health and safety team, and a response plan in place."
"We've never had an environmental loss."
"I have coverage through my other general liability and property policies."
These are the justifications clients most often give insurers for not procuring environmental insurance. For companies outside of sectors with obvious exposure — oil and gas, manufacturing, transportation — the risk of environmental damage may appear marginal and coverage unnecessary.
"Environmental insurance is not like every other insurance," said Mary Ann Susavidge, Chief Underwriting Officer, Environmental, XL Catlin. "The exposure is unique for every operation and claims don't happen often, so many businesses view coverage as a discretionary purchase. But the truth is that no one is immune to environmental liability risk."
Every business needs to be aware of their environmental exposures. To do that, they need a partner with the experience to help them identify exposures and guide them through the remediation claims process after an incident. The environmental team at XL Catlin has been underwriting these risks for 30 years.
"Insureds might not experience this type of claim every day, but our environmental team does," said Matt O'Malley, President, North America Environmental, XL Catlin. "We've seen what can happen if you're not prepared."
Susavidge and O'Malley debunked some of the common myths behind decisions to forego environmental coverage:
Myth: My business is not subject to environmental regulations.
Reality: Other regulators and business partners will require some degree of environmental protection.
Regulatory agencies like OSHA are more diligent than ever about indoor air quality and water systems testing after several outbreaks of Legionnaires disease.
"The regulators often set the trends in environmental claims," Susavidge said. "In the real estate area it started with testing for radon, and now there's more concern over mold and legionella."
Multiple hotels have been forced to shut down after testing revealed legionella in their plumbing or cooling systems. In addition to remediation costs, business interruption losses can climb quickly.
For some industries, environmental insurance acts as a critical business enabler because investors require it. Many real estate developers, for example, are moving into urban areas where their clients want to live and work, but vacant lots are scarce. Those still available may be covering up an urban landfill or a brownfield.
"We're able to provide expertise on those sites and the development risks so the contractor can get comfortable working on it. It's about allowing our clients to stay relevant in their markets," O'Malley said. "In this case, the developer is not an insured with a typical environmental exposure. But if there is a contaminant on the worksite, they could inadvertently disperse it. In a high-population urban area, the impact could be large."
Banks also quite often require the coverage specifically because developers are turning to these locations with higher potential environmental risk.
"Though it's not a legal requirement, insurance is a facilitator to the deal that developers really can't operate without," Susavidge said.
Myth: The small environmental exposure I have would be covered under other polices.
Reality: Environmental losses can result from exposure to off-site events and are excluded by many property and casualty policies.
Environmental risks on adjoining properties can lead to major third party losses. Vapor intrusion under the foundation of one property, for example, can unknowingly underlie the neighboring properties as well. The vapor intrusion can then seep into the surrounding properties, endangering employees and guests.
In other words, your neighbor's environmental exposure may become your environmental exposure.
O'Malley described a claim in which a petroleum pipeline burst, affecting properties and natural resources 10 miles downstream even though the pipeline was shut off two minutes after the rupture. The energy company that owns the pipeline might have coverage, but what about the other impacted organizations? Many other property policies exclude environmental damage.
Sometimes the exposure is even more unexpected. In 2005, for example, a train carrying tons of chlorine gas crashed into a parked train set sitting in the yard of Avondale Mills — a South Carolina textile plant. The gas permanently damaged plant equipment and forced the operation to shut down.
"It's not always obvious when you have an environmental exposure," Susavidge said.
"When there is a big loss or a pattern of losses, the casualty market will typically move to exclude it," said O'Malley. "And that's where the environmental team looks for a solution. Environmental coverage has been developed to fill the gaps that other coverages won't touch."
Myth: We already have a thorough response plan if there is an incident.
Reality: Properly handling an environmental event requires experience and expertise.
In addition to coverage, risk managers need experience and expertise on their side when navigating environmental claims.
"For many of our clients, their first environmental claim is a very different experience because the claimant is not always a typical third party – it's a government agency or some other organization that they lack experience with," Susavidge said. "Our claims team is made up of attorneys that have specific domain experience litigating environmental claims issues."
Beyond its legal staff, XL Catlin's claims consulting team and risk engineers come with specialized expertise in environmental issues. 85 to 90 percent of the team members are former environmental engineers and scientists, civil engineers, chemists, and geologists.
"Handling environmental claims requires specialized expertise with contaminants and different types of pollution events," O'Malley said. "That's why our 30 years of experience makes a difference."
Thirty years in the business also means 30 years of loss data.
"That informs us as a carrier how to provide the right types of services for the right clients," Susavidge said. "It gives us insight into what our insureds are likely to experience and help us determine what support they need."
Insureds also benefit from the relationships that XL Catlin has built in the industry over those 30 years. When the XL Catlin team is engaged following a covered pollution event, the XL Catlin claims team can deploy seasoned, experienced third party contractors that partner with the insured to address the spill and the potential reputational risk. And they receive guidance on communicating with regulatory bodies and following proper reporting procedures.
"The value of the policy goes beyond the words that are written," O'Malley said. "It's the service we provide to help clients get back on their feet, so they can focus on their business rather than the event itself."
For more information on XL Catlin's environmental coverage and services, visit http://xlcatlin.com/insurance/insurance-coverage/casualty-insurance.
The information contained herein is intended for informational purposes only. Insurance coverage in any particular case will depend upon the type of policy in effect, the terms, conditions and exclusions in any such policy, and the facts of each unique situation. No representation is made that any specific insurance coverage would apply in the circumstances outlined herein. Please refer to the individual policy forms for specific coverage details. XL Catlin, the XL Catlin logo and Make Your World Go are trademarks of XL Group Ltd companies. XL Catlin is the global brand used by XL Group Ltd's (re)insurance subsidiaries. In the US, the insurance companies of XL Group Ltd are: Catlin Indemnity Company, Catlin Insurance Company, Inc., Catlin Specialty Insurance Company, Greenwich Insurance Company, Indian Harbor Insurance Company, XL Insurance America, Inc., and XL Specialty Insurance Company. Not all of the insurers do business in all jurisdictions nor is coverage available in all jurisdictions. Information accurate as of September 2016.

This article was produced by the R&I Brand Studio, a unit of the advertising department of Risk & Insurance, in collaboration with XL Catlin. The editorial staff of Risk & Insurance had no role in its preparation.
XL Catlin. From insurance to reinsurance, a changing world needs new answers. We're here to find them. With an incredible blend of people, products, services and technology, we have the power to find innovative, creative solutions to your risks — from the most familiar to the most complex.