Winning the Benefits Battle
Health care reform led to late nights and intense demands on some Power Broker® winners.
Employees at the national headquarters of the American Legion Auxiliary liked their health insurance plan, but they weren't able to keep it.
Like five million other plans, their health plan was cancelled last year, leaving the Indianapolis-based veterans services organization scrambling to cover its employees.
"Anthem Blue Cross Blue Shield did away with all of their small group policies and made new ones," said Donna Parrott, HR director of the nonprofit organization.
Fortunately for the group, they had Kevin Wiskus, an executive vice president at the Hays Cos., to protect their interests.
Wiskus, a 2014 Power Broker® winner in the Employee Benefits category, was able to find a plan that — ever mindful of the nonprofit organization's fiscal constraints — reduced the organization's health plan costs by about 10 percent, Parrott said.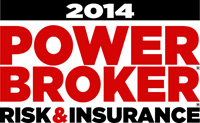 To see all 2014 Power Broker winners, click here.
Wiskus was an area vice president at Gallagher Benefit Services when he put together a benefits solution for the American Legion Auxiliary. And, said Parrott, "it was about 16 percent cheaper than what Anthem recommended."
"He goes above and beyond," she said. "We are a small group but he doesn't treat us as a small group. You would think we were his only client the way we get that personal touch."
Going above and beyond is emblematic of Power Broker® winners in 2014 — and not just those focused on employee benefits plans.
But while Superstorm Sandy focused attention last year on the Power Brokers specializing in property, this year, it's the Affordable Care Act that is taking center stage.
Employee benefits consultants and brokers have had to find ways to dig through 11,000 pages of regulations — regulations that have been changed at the last minute — and excavate the necessary information to protect their clients.
As individuals struggled to sign up via poorly functioning online sites and health care carriers fretted about an adverse risk pool, brokers and consultants stepped in to find solutions.
"It's creating a lot more work for us as consultants to make sure our clients are following all the laws, and making them aware of the taxes and additional costs to them," said Kim Clark, an account director at Gallagher Benefit Services.
"I am hopeful that 2014 is easier than 2013," she said. "I can't imagine it getting harder than it was this past year.
"The carriers had to make changes to every single one of their plans for Jan. 1. Even if employers didn't want to change their health plans, there were plan changes because of health care reform," said Clark, a 2014 Power Broker® in the Employee Benefits category.
Transitioning Plans
A survey of health insurance brokers by Morgan Stanley found that quarterly-reported year-over-year rates in December 2013 were rising in excess of 6 percent in the small group market, and 9 percent in the individual market, according to an article in Forbes by Dr. Scott Gottlieb, a resident fellow at the American Enterprise Institute, a Washington think tank.
It is the largest reported increase since the firm started its quarterly surveys of brokers in 2010, he wrote. "Much of the rate increases are attributable to Obamacare."
Thanks to Deb Mangels, senior vice president at ABD Insurance and Financial Services, the results were much more positive — and affordable — at the Piedmont Unified School District.
"It's been an amazing year for us. We have transitioned our health care plans and it's so much more than we have had," said Michael Brady, assistant superintendent of the district, which employs more than 360 teachers, administrators and support staff in six schools near Oakland, Calif.
Mangels, a 2014 Public Sector Power Broker®, transitioned the district's employee coverage from a health benefits pool with unsustainable cost increases to its own carrier at the same time the district was instituting its first medical benefits cap and increased premiums, following some "very intense labor negotiations," Brady said.
"They reworked all of the plans," negotiated a 15-month plan year so all plans would be on the same cycle, and added an online open enrollment tool. For the same benefits as the pool plan, the district's employees pay about $100 less each month in premiums, he said.
Plus, employees have the option of choosing among some plan options related to copay and deductibles that were not available in the pool.
"I have never felt that we were in a better place than we are right now," Brady said.
Communication is Key
When one HR director for an oil and gas drilling services company was holding employee meetings to discuss the introduction of a high-deductible plan, she faced resistance.
The materials she used to illustrate the changes were hampering her ability to clearly explain to employees and to foreign corporate parents the company's new health benefit plans and options.
That's when she called James Bernstein, a principal at Mercer and a 2014 Employee Benefits Power Broker® — at midnight that night. He's the consultant she counts on to keep his eye on both the big picture and the gritty details necessary to keep her organization in compliance and on top of everything.
By the time she woke up in the morning, Bernstein had prepared and sent her a new set of PowerPoint slides that offered more clarity on the health benefit plans.
"I really couldn't do this without him," said the HR director. "I've got 10 balls in the air, and he will make sure I don't drop one of them."
Effective communication tools and strategies are a crucial part of plan design changes, said Robert Ditty, a partner at Mercer, and a 2014 Employee Benefits Power Broker®.
"You can design a plan until you are blue in the face but if people don't understand it, you will not get the results you want," he said.
 Consumerism Takes Hold
Many plan design changes took place this year with his clients, Ditty said, because employers needed to make changes due to the ACA anyway. As a result, they opted to move ahead with some strategic alternatives that had been under consideration for a while.
One popular option among his mid-size and large company clients was the transition to a high-deductible health plan, coupled with health savings accounts and health reimbursement accounts.
The health care reform law "made people re-evaluate … and it really expedited that strategy for a substantial portion of clients."
Analyzing and strategizing around health benefits isn't going to end any time soon.
Ditty's clients are already trying to prepare for a substantial excise tax that kicks in in 2018. That tax — which requires employers to pay a 40 percent tax on health care costs that exceed federally defined thresholds — is better known as a penalty on so-called Cadillac plans. He said, however, that thresholds imposed for the federal tax will fall on "employers who are not offering very generous or rich plans."
Instead, as the regulations are now written, they will affect many employers who have older workers and higher health care costs. "A significant portion of my clients are projected to hit this threshold in 2018, and they don't have rich plans," Ditty said.
That tax will join the other taxes imposed this year on employers. All of these developments have made life interesting of late for employee benefits consultants — "interesting," as in the Chinese curse: "May you live in interesting times."
 Budgetary Concerns
It was those additional fees imposed this year that forced Gallagher's Clark to seek out different health plan designs for her clients.
The ACA-imposed taxes — either directly borne by employers or probably passed along as increased premiums because they are paid by health insurers — are the Patient-Centered Outcomes Research Institute Fee (PCORI); a Marketplace User Fee that "could be almost 3 percent of their premium," Clark said; a Transitional Reinsurance Program Assessment Fee; an Annual Health Insurance Industry Fee; and a Risk Adjustment Program and Fee.
Often, she said, employers had to change plan design "to help their budget to account for those additional costs."
Also adding costs were some other requirements in the ACA, such as requiring pediatric dental benefits on all plans, even if the policyholders did not have children or their children were older than 18.
One other wrinkle in the ACA, which is playing out in the courts, is the need for all plans to include contraception benefits. That offered a unique challenge for Jan Wigen, a principal at Mercer, who was working with a religious institution.
The faith-based organization, a Catholic college, refused to pay for the benefit. Wigen, a 2014 Employee Benefits Power Broker®, helped the college secure separate contraceptive coverage through an insurer without having to pay for it, itself. She then provided separate enrollment cards and communication tools so the college could comply with the law and employees could have the coverage, without administrators breaking the dictates of their faith.
That was a regulation that had a fairly limited employer impact, but there was plenty of fodder in the ACA for angst to be created among employers of all sizes and shapes — and their brokers as well.
"I can't think of an employer I talked to or worked with," Ditty said, "where the law is not driving them in many instances to be more proactive about how they manage their benefit programs. … They have really become progressive in what they are doing from a strategic standpoint."
For those employers lucky enough to have Power Brokers as their consultants, the process will run a bit smoother and the results will likely be a bit better, even as the demands on them increase and the regulations continue to change.
Anne Freedman is managing editor of Risk & Insurance. She can be reached at
[email protected]
Power Broker Rising Stars
The class of 2016 impresses with its size and quality.
Judging the talent employed by commercial insurance brokers leads us to one conclusion; optimism is the order of the day.
As we discovered this year, not only are the ranks of high-achieving younger brokers as strong as ever, they are increasing in number.
We've renamed our Power Broker® "Under 40" category to "Rising Stars" to better celebrate this wave of talent and to focus on an important point. Yes, this is a younger group of professionals, all of them under 40, but it's more on point to think of them as the future leaders of this profession.
As Power Broker® winners and finalists, this set of Rising Stars demonstrated a superior level of creativity in finding solutions for their clients, unflagging customer service and a devotion to learning more about their industry.
Just four years ago, the number of brokers honored by this designation hovered around 40. Last, year, there were 54 Power Broker® winners and finalists recognized in the Under 40 category.
Over the next few pages, you will see the names and affiliations of 77 brokers we recognize as Rising Stars. Since the launch of this category in 2009, more than 250 brokers under 40 received the designation.
The average age of the Rising Stars designees is 36. They represent a powerful wave of talent that is bolstering a profession, which like many other professions will be challenged to replace talent as the baby boomers retire.
For this group of Rising Stars, a career in commercial insurance brokerage is a compelling challenge that results in rich rewards.
"I really enjoy telling 'the story' on behalf of my client to the insurance carrier, to pique their interest in an account," — Ashley De Paola, assistant vice president, Alliant
We first came to know Lockton's Christopher Keith when he broke into the Power Broker® ranks as a winner in the Workers' Compensation category in February 2013.
In those days, Keith worked for the Philadelphia-based Graham Co. Keith, 39, said it's the "entrepreneurial" nature of the business that he finds so rewarding.
"I like the fact that I am managing my own profit and loss statement," said Keith, who this year achieved Power Broker® status in the Aviation category.
At Lockton's annual President's Dinner, he was recognized as the "prototype" Lockton producer.
"I'm very proud of that," he said.
Alliant's Ashley De Paola, 33, a 2016 Power Broker® in the Real Estate category, said it's the quick-paced, evolving atmosphere of commercial insurance brokerage that excites her.
"I really enjoy telling 'the story' on behalf of my client to the insurance carrier, to pique their interest in an account," De Paola said.
Earlier in her career, a client expressed his concern over her age and experience. Her review of his insurance program changed his mind.
"It was very rewarding when he later asked me to work on his business," she said.
Beecher Carlson's Joe Roberta, a 2016 Power Broker® winner in the Private Equity category, has several reasons he likes working in this industry. Top of the list is that this is a very "social industry."
"I truly enjoy working with people that I've been fortunate enough to build long-term relationships with," he said.
Justin Wiley, 32, Power Broker® winner in the Public Sector category, works for Arthur J. Gallagher & Co., which prides itself on its mentoring efforts.
The company sent Wiley to Orlando, Fla., to work with veteran Rich Terlecki, himself a multiple Power Broker® winner.
"My goal was to learn and gather from him as much intellectual capital as possible," Wiley said.
Clearly, Terlecki taught him well.
The 2016 Power Broker® Rising Stars
To Keep Cool in a Crisis, Companies Need a Comprehensive Solution
Corporate security threats now come in many forms, and mid-size companies should be prepared to cover them all.
Threats against corporate security come in many forms, from intentional acts of violence to civil unrest to cyber-attacks. The perpetrators don't discriminate by company size or sector, and the consequences can range from several thousand dollars lost to several lives lost.
The recent shooting in an Orlando nightclub that killed 49, for example, or last year's San Bernardino shooting that killed 14, are somber reminders that terrorism and violence can erupt anywhere and in any type of business. In addition to loss of life, violence can translate into business interruption and property damage. In Ferguson, Mo., riots lead to over $4 million in property damage.
Cyber-attacks have also become commonplace, with hackers infiltrating private networks to steal data or hold it ransom.
Is your organization prepared for these risks?
"A lot of companies have a crisis response plan on paper, but they don't have outside resources to come to their aid if there is an incident," said Reggie Gibbs, Underwriter and Product Manager, Starr Companies.
Mid-size companies especially tend to lack comprehensive insurance coverage and crisis management services for a variety of security events due either to limited resources or an underestimation of their exposure.
Starr Companies' Cyber and Terror Response (CTR) solution provides three coverages as well as crisis response services tailored to meet the needs of these companies. Each of its components addresses a common security threat.
"We don't just want to indemnify the security risks our clients face; we want to help them actively manage them."

— Reggie Gibbs, Underwriter & Product Manager, Starr Companies
Terror and Political Violence
"Political violence can be defined as a strike, riot, protest, or any type of unrest that gets out of hand and turns violent," said Gibbs, who specializes in terrorism and political violence, workplace violence, and crisis management.
In the case of the Ferguson protests, any first party property damage or third party liability incurred by the disruption would be covered under the terrorism and political violence segment of the CTR solution.
In the case of a terror attack, organizations cannot necessarily rely on TRIA to pick up property losses. In the case of the Orlando shooting, for example, the likelihood of TRIA being invoked is low because property damage will not meet the threshold for coverage to kick in.
TRIA, reauthorized in 2015, provides a federal insurance backstop in the event of a terror attack. The U.S. Secretary of the Treasury, U.S. Attorney General, and U.S. Secretary of Homeland Security must declare an attack to be an act of terrorism, and property damage must exceed $5 million to trigger TRIA.
"We would still view the Orlando shooting as an act of terror, however, because of who the shooter claimed he was working for regardless if the ties to terror groups are clear or not. Therefore, our coverage would apply," Gibbs said. Even if TRIA was enacted, however, companies would still have a lot of pieces to pick up following an attack. They may have injured or deceased employees, or face legal action from third parties.
Workplace Violence
For these situations, and any other incident of violence not driven by terrorism, the workplace violence component of Starr's CTR solution would act as an umbrella to cover other liabilities such as legal liability, loss of life benefits, psychiatric care, and other crisis response services.
One such incident struck a Boston-area Bertucci's in early May. An attacker wielding a knife drove his car into a Boston shopping mall before making his way into the nearby restaurant. He killed five, including restaurant workers and patrons.
"There was no ideological or political motivation behind it. He was just deranged." Gibbs said. "Our workplace violence coverage can handle the loss of life benefits for both the employees and patrons killed in situations like this one."
In the best cases, though, violence can be prevented altogether.
"If an employee reports a stalking threat, the policy would cover the expense of security guards," Gibbs said. "In this case, it's more of a pre-workplace violence coverage. It would de-escalate the situation."
Cyber Liability
Attacks can also be non-physical.
Cyber extortion in particular is on the rise. Phishing scams lead employees to click on malicious links, unknowingly downloading ransomware onto their internal networks. The cyber criminals then hold companies' networks ransom, asking for a sum of money in return for the release of data or to prevent a business interruption. The ransoms can be low — amounts that organizations can afford to pay.
"The hackers don't want to attract the attention of law enforcement or regulatory agencies," said Annamaria Landaverde, National Cyber Practice Leader & Professional Liability Underwriting Manager, Starr Companies. Landaverde specializes in the cyber component of the CTR coverage. "The FBI may not get involved if someone asks for $5,000. They are more likely to get involved if someone asks for $5 million."
Since companies are not required by law to report cyber extortion —like they are for data breaches — many choose simply to pay the ransom and move on without generating any negative news headlines.
"The hackers don't want to attract the attention of any law enforcement or regulatory agencies. The F.B.I. won't get involved if someone asks for $5,000. They will get involved if someone asks for $5 million."

— Annamaria Landaverde, National Cyber Practice Leader & Underwriting Manager, Professional Liability Division, Starr Companies
"A California medical center recently had an incident like this where the hackers asked for $17,000 in ransom," Landaverde said," but the amounts can vary."
While the ransom itself may seem manageable, many companies fail to recognize other costs associated with the identification and removal of the malware from their system. There may also be costs associated with forensics investigations, legal experts, public relations firms, third party lawsuits, and notification and credit monitoring.
"The cyber arm of the CTR coverage extends to liability that an organization would suffer as a result of a breach, or failure of security of the insured's network," Landaverde said. That includes not just cyber extortion, but outright data theft or denial-of-service attacks.
Crisis Management Services
"We don't just want to indemnify the security risks our clients face; we want to help them actively manage them," Gibbs said.
The fourth component of Starr's CTR solution – crisis response — provides two outside consultants to insureds, with one specializing in "hard" security services like guards or instances of cyber extortion, and another focusing on crisis communications.
Without these outside services, there is only so much insurance can do in the aftermath of a crisis. Experienced consultants provide a range of security preparedness and response services to complement coverage and help insureds recover from an episode of violence or cyber event.
"From a communications perspective, our consultants can manage the public relations front to create clear and consistent messaging, but they can also stay in touch with families after a terror or other violent attack to make sure everyone stays informed," Gibbs said.
They also serve as a first point of contact for insureds immediately after an event. If they need guidance quickly, consultants await at the ready.
"When a client purchases the product, they get a 24-hour hotline set up with one of our consultancies," he said. "They can report an incident at any time, and our consultant will help either resolve a situation or deal with the aftermath in whatever way they can."
While the Cyber and Terror Response package provides a comprehensive solution tailored for mid-size companies, Starr also offers standalone cyber liability and crisis management coverage on a primary and excess basis.
"For companies with greater exposure to a particular type of risk, or who simply want higher limits or greater customization, we have those standalone polices." Landaverde said.
For more information on Starr Companies' Cyber and Terror Response solution, visit https://www.starrcompanies.com/Insurance/CyberAndTerrorResponse.
Starr Companies is the worldwide marketing name for the operating insurance and travel assistance companies and subsidiaries of Starr International Company, Inc. and for the investment business of C. V. Starr & Co., Inc. and its subsidiaries.

This article was produced by the R&I Brand Studio, a unit of the advertising department of Risk & Insurance, in collaboration with Starr Companies. The editorial staff of Risk & Insurance had no role in its preparation.
Starr Companies is a global commercial insurance and financial services organization that provides innovative risk management solutions.